Blog Home
Get Fit at Our 24-Hour Fitness Center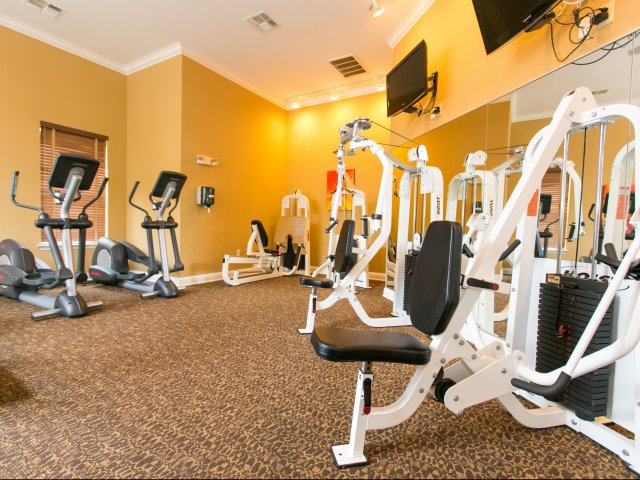 One of the perks of living at Fieldstone Farm apartments is access to our 24-hour, onsite fitness center. When was the last time you used it? If you are a regular user, good for you, we're preaching to the choir. However, if it's been awhile, or if you've never used the fitness center, you may want to start using this great amenity— just one of the many we offer. Understandably, sometimes it is difficult to get motivated to start or to stay motivated to keep going day after day, week after week, month after month. But think of the benefits — looking better, feeling better, not to mention the long-term health benefits of regular exercise. In today's blog post, we've pulled together some tips for getting the most out of your exercise time.
— Set a Regular Time for Exercise
Working out at the same time every day will help make it a routine habit, and a part of your day. Try a variety of times to find the one that works best for you. Then stick to it.
— Create a Routine
How you start, what exercises you do, and how you cool down all come into play. Explore the different types of workouts available to find one that works for you.(A google search with the terms "workout in fitness center" brings up hundreds of hits.) If it's been awhile since you have been exercising regularly, this article at WebMD provides a good overview of appropriate questions to ask. before you get started.
— Track Your Progress
Whether you mark your progress in a notebook or use a Fitbit, tracking what you are accomplishing is a great way to reinforce the choice you made to exercise. It creates motivation on those days you just want to pull the covers over your head instead of going to work out.
—Set Up a Support Group
Having a workout buddy can be a lot of fun, and it helps to have someone to be accountable to as well. If you know your friend is going to be knocking on your door, you are more likely to get out of bed and head out.
Having an onsite fitness center is awesome — you don't ever have to drive across Odenton to get to the gym! Please share a comment about how starting a fitness program has impacted your life.