Blog Home
Serving Up a Feast at Fieldstone Farm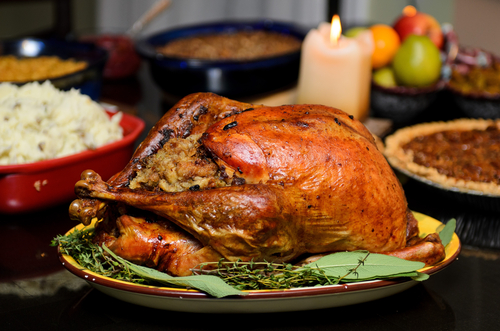 This month, we've got some ideas for creating the perfect Thanksgiving feast. Whether it's friends and football, or kids and crafts, the food will pull the whole gang together. If you're gearing up to serve dinner at your Fieldstone Farm apartment or are leaving Odenton, MD for the weekend, we've got you covered.
First, here are some ideas about how to cook the featured fowl of the event: the turkey. As always, the time-honored way of roasting a turkey (directions courtesy of Martha Stewart) is perfectly acceptable.
If you'd like to try your hand at deep-frying, follow these directions from Butterball, which results in a tender and delicious turkey.
You can also cook a turkey by soaking it in brine first before you roast it. Brining creates a moist, flavorful bird. Directions for brining a turkey can be found on The Pioneer Woman Blog.
Now that we've got the turkey covered, the following recipes add a flavorful twist to traditional sides. Try all of them, or maybe just a few. Either way, they will be a great addition to the menu.
Potatoes are versatile, and adding a touch of garlic adds a nice nuance of flavor for this Thanksgiving staple.
"This is the stuffing my mother-in-law makes every Thanksgiving, and this is how her mother always made it" — review from Allrecipes.com.
Coconut-Sweet Potato Casserole
The coconut adds a tropical twist to the traditional sweet potato side-dish.
Slow Cooker Green Bean Casserole
"I was on a search for a slow cooker green bean casserole to take to a friend's house for Thanksgiving dinner. I couldn't find one I liked, so I mixed and matched and came up with this one! It was so good that I didn't have any leftovers. Happily fed 8 adults and 3 children. Use different spices for your taste! I added some onion powder and Italian seasonings. After you serve, leave the lid off of the slow cooker so the french-fried onions remaining crispy on top. You could also use cream of mushroom soup in place of the cream of chicken" — review from Allrecipes.com.
Peas and mint? Together in the same dish? This dish actually pairs well with turkey, creating a refreshing twist on plain old peas.
Take your pick of these recipes. Grilled asparagus is a quick last-minute addition to the menu and the bonus is they can be grilled outside while the oven and stovetop are in use for other dishes.
With these easy-to-make dinner rolls from Six Sisters' Stuff, even a novice cook can pull off homemade goodness!
Or maybe try cornbread for a change of pace. This recipe is similar to the famous Marie Callender's cornbread and has been tested by generations of a single family.
Add cranberries and olives for the kids (and kids at heart) to put on their fingers, and your meal is ready. Of course, Thanksgiving would be incomplete without a pumpkin-based dessert. Try one of these great recipes.
Pumpkin Silk Pie from The Gunny Sack
Make the filling for this pumpkin silk pie with cream cheese, powdered sugar, pumpkin, vanilla, pumpkin pie spice, and whipped topping. We love how light, fluffy, and delicious this pie is. Finish this recipe off with homemade whipped cream.
Pecan Streusel Pumpkin Pie from Chelsea's Messy Apron
Pecan streusel pumpkin pie combines our two favorite pies in one. The pumpkin filling is topped with a crunchy and delicious pecan streusel. Finish off this recipe with a scoop of maple whipped cream. You can make maple whipped cream with heavy whipping cream and your favorite brand of maple syrup.
The aroma will bring the neighbors over wanting to eat dinner with you! Please comment and let us know which recipes you liked best and what you are grateful for this month.