Blog Home
Summertime Pool Time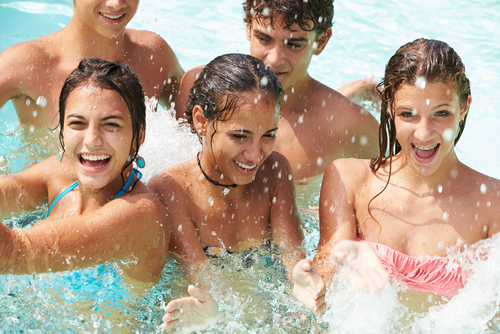 June is here, and that means it's the perfect time to spend some time in the pool. At Fieldstone Farm, our residents have access to a year-round pool and jacuzzi, and today we are going to focus on pool safety, with some tips for using the pool plus some fun games to play in the pool. So get ready for some summer pool fun!
Safety Guidelines
Make sure you are aware of the posted rules for using the swimming pool. The rules are there to provide safety for all of our apartment community members.
If you don't know how to swim, avoid the deep end of the pool (and take swimming lessons). The Red Cross offers learn-to-swim courses. Use the link to find classes in the Odenton, MD area.
If you take children to the pool, please make sure they are supervised. Stay within arm's reach of your little ones who can't swim.
Do not swim under the influence of drugs or alcohol. Impaired judgment may occur and affect coordination, which increases the risk of injury or drowning.
Avoid diving in headfirst into shallow water or if you do not know the depth of the water. Diving in shallow water increases the risk for injury.
Do not swim alone. Accidents can happen to anyone, even strong swimmers. Always swim with a buddy or be sure a lifeguard is present.
Now that we've covered safety, how about some pool games!
Pool Games
Marco Polo
This game, named after a thirteenth-century Italian explorer who traveled throughout China and kept a detailed record about his adventures, is a classic pool pastime. Why it is called Marco Polo remains a mystery. Essentially it is a game of Blind Man's Bluff, played in the water, with several variations. The "blind" person calls out Marco, and the other players must answer Polo, to assist Marco in trying to find them. For detailed rules, check out this website.
Popsicle
A variation of freeze tag, this game consists of one person being and remaining 'it'. They then begin to chase down others, freezing them with a touch. Players frozen must remain immobile. However, if a player is underwater they cannot be tagged 'it', and if they swim past a frozen swimmer (otherwise known as a 'Popsicle') while underwater they unfreeze them.
What are your favorite games to play in the pool? Please feel free to share in the comments.